6 Reasons why you need micro-credentials for workforce development
by Jane Violette on 2/5/21 8:00 AM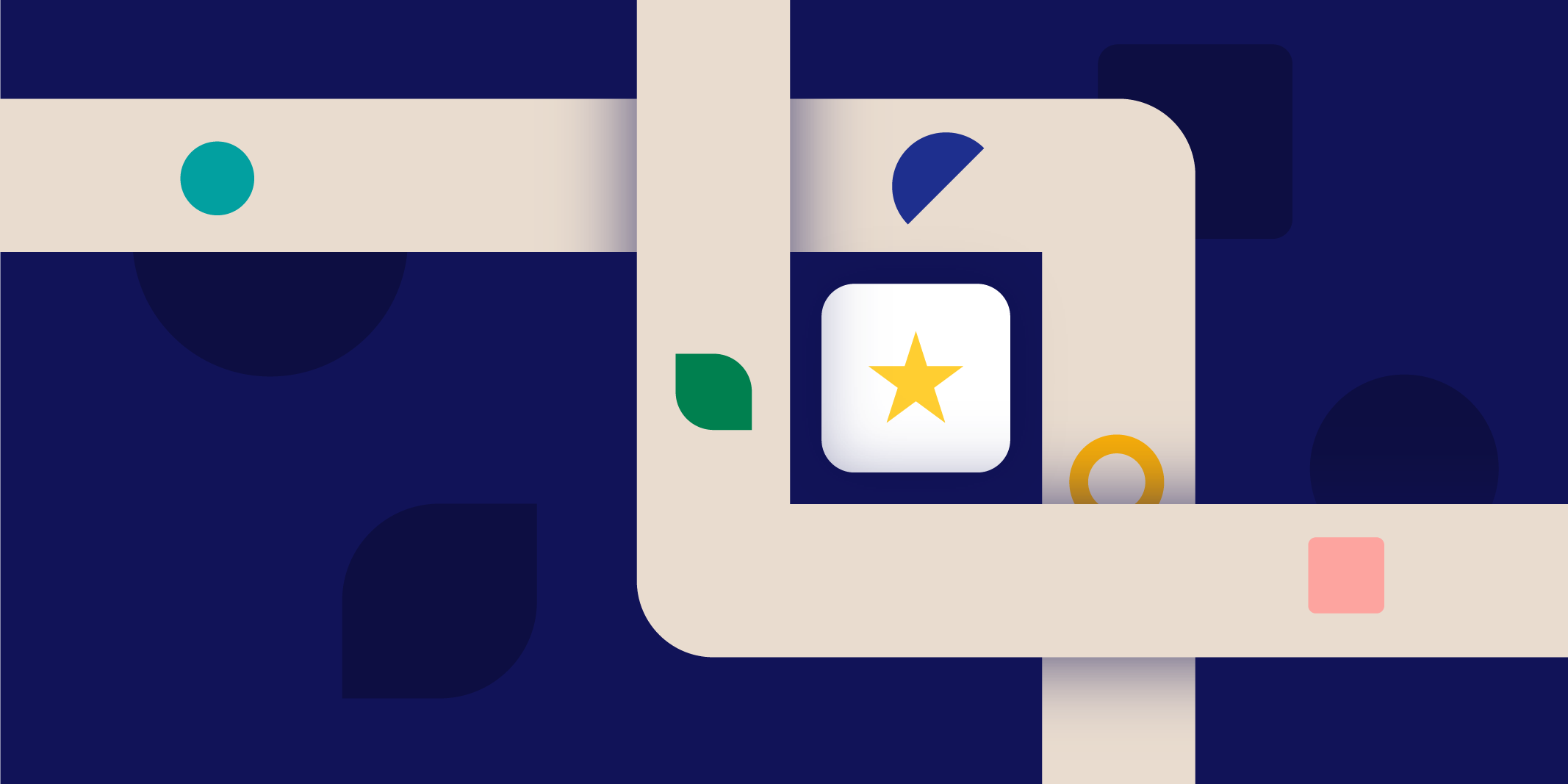 If anything has become clear in the past year, it's that online learning and virtual upskilling are here to stay. Organizations are reconsidering traditional methods of workforce development, and one model seems to stand out against the competition: micro-credentialing.
Micro-credentials are a longstanding, trusted method of giving and receiving recognition for learning. They've been used in the education sector for decades to recognize educator achievements and higher education certifications.
And there's no better time than the present for organizations to adopt this model and leverage micro-credentials for employee upskilling. Businesses are facing short-term pressures with the pandemic, fluctuation of the economy and a shift in the necessary skills for today's jobs.
Let's start out by defining a couple of terms often used in the micro-credential and digital badging space and how they can support each market and organization looking to upskill staff and retain employees.
Micro-credentials
Credential Engine Registry defines micro-credentials as "a subset of field-specific knowledge, skills or competencies; often developmental with relationships to other micro-credentials and field credentials." The evidence of continuous learning comes in many forms, and needs to be effectively contained, recognized and delivered to acknowledge educator practice. It can be, but does not necessarily need to be, issued as a digital badge.
Digital badges
According to the Humanities, Arts, Science, and Technology Alliance and Collaboratory (HASTAC), a digital badge is a validated indicator of an accomplishment, skill, quality or interest that can be earned in many learning environments. Digital badges offer a simple way to recognize online learning, both formal and informal. Think of a digital badge as not only a line on your resume noting a particular skill or competency, but also visual evidence documenting how that skill was obtained.
Open badges
Open badges are a type of digital badge that are verifiable, portable and packed with information about skills and achievements. Open badges meet a specific standard, such as the OBI standard by IMS Global, that ensure portability between systems and that metadata baked into a badge is consistent across issuing platforms. Much like digital photos that contain metadata like the location and date the photo was taken, Open Badges are digital images that contain metadata that represent the educators' learning experiences. These digital badges look like images and are shared online. The metadata inside make it possible for people and machines to understand achievements.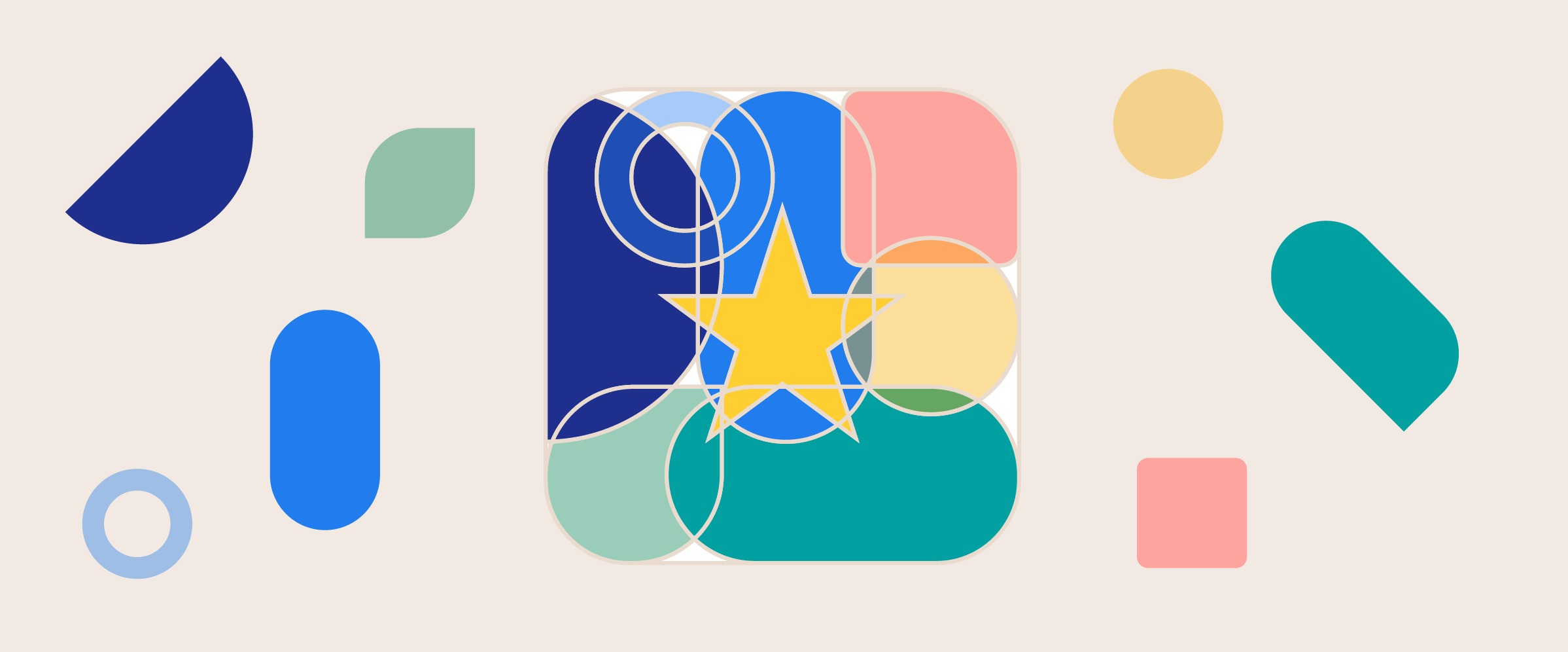 Visualization of how evidences of learning and micro-credentials come together. The individual shapes represent evidences of learning that combine and are recognized in the form of a micro-credential.
Here are six reasons why you need micro-credentials for your organization's upskilling and development:
Micro-credentials are transportable and recognizable across various markets, sectors and platforms.
Micro-credentials give agency to employees while strengthening the organization.
Micro-credentials are already being used by some of the world's largest companies.
Getting started with micro-credentials is pretty simple.
Micro-credentials fill skills gaps and encourage employee growth.
Micro-credentials offer peer leadership experience and foster connectivity between employees.
---
1. Micro-credentials are transportable and can be used across various markets, sectors and platforms.
One of the most valuable parts of a micro-credential program is the ability to transport and recognize the information within micro-credentials across organizations, markets and sectors.
Inside each micro-credential is metadata, data that provides information about the learning and issuer.
For example, the metadata in a digital photo tells where the photo was taken and when. The information stored within a micro-credential includes:
Micro-credential name.
Micro-credential image.
Micro-credential description.
Micro-credential criteria.
Earner's name.
Learning experience title.
Issue date.
Issuer name.
Issuer description.
This transportable nature allows for employers and institutions to recognize skills regardless of the institutions or organizations at which they were acquired. It creates an ecosystem of learning where, no matter the sector, market or platform, employees are recognized for their new skills or competencies. Micro-credentials are extremely shareable and can be added to resumes, online profiles and job applications to show a level of qualification and the associated skills acquired to receive it. Organizations creating workforce development programs can use micro-credentials to recognize employees advancing in their careers, growing within the organization and becoming leaders and mentors to others as a result of those micro-credentials.
An example of this transportable, cross-sector nature is a recent learning experience for an MLK Day of Service organized by L.A. Works, a nonprofit volunteer action center that creates and implements hands-on community service projects throughout the greater Los Angeles area. L.A. Works hosted a series of virtual learning workshops on the intersection of food insecurity, homelessness, criminal justice and race. Learners who attended the virtual workshops and participated in various discussions were awarded a micro-credential to capture their new knowledge. The goal of this micro-credential was to encourage awareness, build upon the anti-racism movement and help individuals develop skills connected to their passion of supporting their community so that they're equipped to take action in their communities and organizations. The learners can now share their micro-credential with their employers and community members across various sectors, and apply their competencies to their professional and personal lives.
Screenshot of MLK Jr Day 2021 virtual learning course, overview and learning objectives
2. Micro-credentials give agency to employees while strengthening the organization.
Micro-credentials should be designed in a way that interests employees to get involved and recognize a range of learning experiences. Just like in scouting where you earn badges that are part of a larger accomplishment, micro-credentials recognize competencies and achievements that make up a particular skill set and/or new set of knowledge.
Maybe you're a nonprofit looking to train volunteers for an upcoming virtual volunteering event or an organization hoping to build a company-wide upskilling program. Each of these learning opportunities, both formal and informal, can build up into a larger accomplishment and can be recognized by a micro-credential.
The ways in which the learning opportunities are structured, too, provide employees and/or volunteers with agency in their learning. While the micro-credential shows recognition of new skills or competencies, the individual learning pathways of each individual to achieve that skill can look extremely different. Some learners may prefer to read articles or listen to podcasts then share what they learn, while others might develop a deeper understanding in talking with others then creating a visual to represent their learning. Effective training incorporates various methods of instruction and collaboration so that employees are fully engaged and inspired to move the organization forward.
3. Micro-credentials are already being used by some of the world's largest companies.
IBM, a global technology and service provider, is the perfect example of a large-scale upskilling program that uses micro-credentials. Self-dubbed the "most influential IT credential program in the world," IBM has issued more than three million digital badges and hosts about 2,500 activities where badges are issued.
IBM's use of micro-credentials highlights the wide range and possibilities of recognition through micro-credentials, from a small skill all the way up to a large certification. The organization hosts micro-credentials for skills development and specialization but also connects digital badges to professional master's degree programs.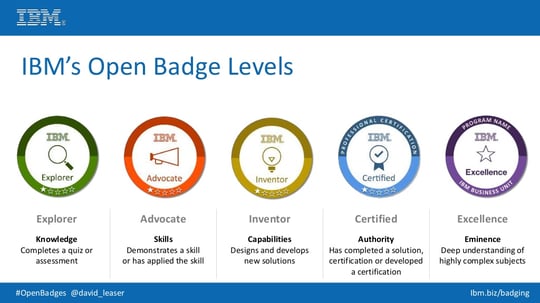 Visualization of IBM's open badge levels
Another example of employee upskilling with micro-credentials is the Open Skills Network (OSN), a coalition of employers, education providers, military and other stakeholders dedicated to advancing skills-based education and hiring. OSN establishes the rich skills descriptors (RSD) that are used as the standard syntax for structured skills data and creates the toolsets to accelerate the adoption of these RSDs.
Partners of all industries and sizes, such as AWS, Walmart and the U.S. Chamber of Commerce Foundation, rely on OSN's standards and tools to scale their upskilling programs and rely on micro-credentials to demonstrate skills-based qualifications. These standards help organizations develop and collaborate around skills libraries, making it easier for existing programs, curricula and job descriptions to exist in an understandable, portable and machine-actionable way.
4. Getting started with micro-credentials is pretty simple.
To get started, both learners and organizations should consider the pathways of growth available within the organization. Are you wanting to build a learning program to fill skills gaps? What competencies are needed to fill those skills gaps? And better yet, what are those skills gaps? In a recent podcast, Bill Schaninger, Senior Partner at McKinsey, says most companies don't have a clear understanding of what their skills gaps really are. He recommends looking into places like LinkedIn or other job sites to see how employees describe the achievements and skills that make up their jobs, not just their titles.
Next, consider what evidence of learning could be captured as a portfolio to demonstrate these competencies as an employee upskills. Using a backwards learning design approach, start with the end goal or skill then identify the individual stepping stones, activities and learning products that make up the micro-credential and demonstrate that employees have gained new knowledge.
Once you've mapped out these growth pathways and designed micro-credentials that build upon one another, create a learning ecosystem or use a badging software to build out those learning experiences. At Participate, we rely on the various tools within our Community of Practice platform to empower learners to connect and grow. Learners have the opportunity to learn with and from one another while being awarded micro-credentials for their work and learning products. Designing micro-credentials and digital badges in the context of an online learning community creates a cycle of continuous learning and feedback.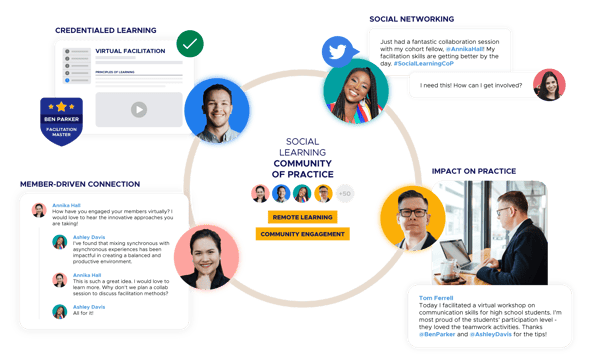 Cycle of learning and feedback within a Community of Practice
5. Micro-credentials fill skills gaps and encourage employee growth.
As mentioned above, many micro-credential and workforce development programs first start from a specific need or skills gap. Rather than seeking outside help or consulting, organizations can rely on internal knowledge to create the frameworks that encourage employee growth and lead to employee retention. This supports a new avenue for employees to drive the growth process and collaborate with organizational leaders to develop a program that serves the needs of both individuals and organizations.
In the past year alone, we've seen dozens of organizations leverage internal knowledge to transform the ways they interact with stakeholders and fill skills gaps. The Council of State Chambers (CoSC), a national organization that connects and promotes collaboration between state chamber executive leadership, transitioned from in-person networking events to a virtual learning series and virtual annual meeting. Rather than seeking external experts for learning events, CoSC tapped into the collective intelligence within the organization for the sharing of best practices, resources and business solutions to aid their individual chambers in growing. The organizations that have these learning structures in place will be the ones to thrive and scale as the world's demands ebb and flow.
In a 2019 research study, the think tank RAND Corporation states that upskilling systems that are rooted in employee growth encompass:
Build trust between employees so that they're encouraged to share ideas and build new knowledge together.
Flexibility and responsiveness.
Design a program that can change and adapt as your organization changes and adapts. Micro-credentials are dynamic in nature; your learning system should be too.
Consider how you'll encourage employees to work toward micro-credentials and other achievements both personally and professionally. The incentives shouldn't be frivolous items but rather opportunities that tie back to system goals and deepen employee growth.
Data-driven, evidence-based decision making.
Know when and how to experiment, iterate and edit your micro-credentials. Integrate employee feedback into your optimization process.
All of these characteristics fit into a Community of Practice approach, where strong connections, flexible learning structures, rewards for achievement and data are integral to the learning program.
When there's a renewed focus on building trust and creating equitable learning opportunities in a community, employees are more likely to see a clear trajectory of growth and upskill within the company.
6. Micro-credentials offer peer leadership experience and foster connectivity between employees.
When most people think of micro-credentials, they often draw an image in their heads of a single learner on a computer doing independent work. And in some micro-credential systems, experts are in place to review work before recognition is awarded, but this is not always scalable or equitable. Impactful micro-credentials don't follow either of those traditional methods but instead offer the opportunity to build connections and to collaborate among colleagues.
Example of peer review and collaboration within a micro-credential system. Learners give and receive feedback in one-to-one mentorship and/or through group discussions and reflection.
A peer review system is a simple way to build trust in your micro-credential and upskilling infrastructure. This grants employees the power to drive their own learning and ensures your team is putting the knowledge, attitudes and skills outlined in your competencies into practice.
Social learning, by design, is a collective effort. The impact and overall effectiveness of an employee is a reflection of the support and feedback given for growth. Not all employees are given opportunities to lead in their day-to-day positions, but by providing support through a peer mentor, there is an opportunity for both employees and mentors to create new knowledge in their growth pathways.
Ready to get started with micro-credentials for your organization's learning and development?
Click below to schedule a strategy call with our partnerships team.