5 Mistakes you can't afford to make when designing online courses
by Julie Keane on 10/21/20 10:28 AM
Designing online courses is often viewed as a straightforward process — you have content, you put the content into an online course builder, then people enroll in your course.
But it's a lot more involved than that if you're aiming to make an impact with your courses. What you don't consider (or what you're not including in your courses) could cost you.
Whether you're just getting started or have been designing courses for years, here are five online learning mistakes you can't afford to make:
Not knowing your audience.
Including too much content in one course.
Designing standalone courses.
Tracking the wrong measures of success.
Not building in feedback and mentorship.
---
1. Not knowing your audience.
Before you embark on course creation, you have to know who you're designing courses for. This can help inform the social learning platform or Learning Management System (LMS) you build these courses on. Knowing your audience also helps you identify the format and mediums for your course. If your course aims to support working moms learning how to become data scientists, you might include bite-sized podcast content with quick checkpoints and resources to access across a lengthier time period. But if you're designing a course with the same content for full-time graduate students, it might include full-length videos with more in-depth checkpoints across a shorter period of time.
What to do instead
Research your audience — what similarities exist among your learners, what are their schedules like, how often do they seek out online learning opportunities, do they have access to reliable internet, what external factors might impact the likelihood of staying engaged in a course — then design your course to take their preferences and needs into account.
2. Including too much content in one course.
Similar to the point above, know the depth and medium of content that best speaks to your audience's needs. If you have too much information in one course, they may be overwhelmed and stop engaging with your course early on.
Consider what learning looks like outside of a typical course. Rather than trying to fit your content into a box, consider the synchronous and asynchronous experiences that inspire your audience to dive deeper. Break your content down into videos, use visuals to aid learners in understanding complex topics. Use your content to guide learning, not to overwhelm learners in long trainings.
What to do instead
Conduct a content audit and see how you can spread out your content into more digestible and accessible pieces. Design a course bundle or interactive learning experience that shares your content in various spaces and formats, not just one, text-heavy course.
3. Designing standalone courses.
If you design a standalone course — one online interaction for content dissemination — learners will come into your LMS, absorb your information then be on their way. But if you design multiple touchpoints for relationship-building and conversation, your learners will be more engaged, create shared knowledge with others and become course advocates to further your impact and growth.
Designing with sustainability in mind creates a clear path of how you see your courses and learning experiences growing. You might want to consider:
What tools and platform features will you use for learners to engage with you and other learners in the course?
Are you creating checkpoints and opportunities for social sharing and interactions throughout the course?
Can you build upon existing content to create future courses and experiences for your learners?
How do you plan to capture impact and evidence of learning to encourage future learners to enroll in your course?
An alternative to a standalone course could be a three-month learning experience with independent coursework, follow-up resources, cohort discussions, drop-in Zoom chats and a post-course social to talk about what was applied from the course.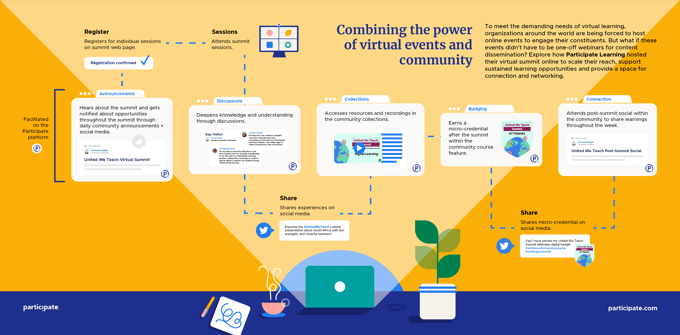 Example of an alternative to a standalone course. This infographic illustrates an approach to online learning rooted in community.
What to do instead
Design a learning ecosystem, such as a Community of Practice (CoP), where learners can stay engaged in your content and become a community of course advocates, growing your reach and impact. Create shared, sustainable experiences people will want to continue to be a part of both within the course and on external networks.
4. Tracking the wrong measures of success.
When most people set out to create online courses, they envision success as the revenue generated, learners enrolled in a course and/or the completion rate. But success isn't always measured by course completion or enrollment. Think about the shareability, impact on practice and what a learner does with what they've learned from your course, not just what they've completed. Track that the learner took an action and changed their practice as a result of your course. At Participate, we help partners with all types of learning initiatives create CoPs that inspire change and create a lasting impact.
What to do instead
Design with the end in mind. Consider the action you want learners to take, and design the course around that impact. Measure success by the digital collaboration knowledge creation as a result of your course.
5. Not building in feedback and mentorship.
Learning, at its core, is a shared experience. So you should approach online course design with a social learning perspective. If you're not hearing from or learning with your learners, how do you know they're understanding your content?
By building in feedback and mentorship, you'll get a first-hand look at what's working or might need to be iterated upon within your course. You'll also have more opportunities to build strong relationships with your learners. As your course or learning experience grows, you can empower learners of previous cohorts to become the mentors for certain courses, freeing up more time for you to build future experiences and edit content to meet learner needs.
What to do instead
Incorporate course checkpoints built for peer mentorship and feedback. Build in the systems and learning opportunities that support shared knowledge creation rather than knowledge transfer. Look for community and course platforms that support peer mentorship and feedback.
By avoiding these mistakes, your future online courses, learning experiences and communities will be sure to engage your learning and create an impact.