Participate in the Hour of Code
by Participate, on 11/27/18 9:45 AM
This December, schools around the world will take part in the largest collective education event in history.
Hour of Code, a week of global events throughout Computer Science Education Week, shows students what it takes to build the programs and apps they use each day.
In preparation for the Hour of Code, we spoke with our development team to see what it's like to be a professional coder! Hear what they have to say to students of all ages.
Who are the faces behind our code?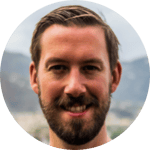 Mike Laurence self-identifies as a "technology wrangler" but on paper is a senior software engineer. Aside from EdTech, Mike enjoys game design, photography and music production.
Zach Wallace started at Participate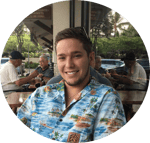 as an operation development intern five years ago and shifted to a full-time software engineer upon graduation. His favorite course on the platform is Blockchain Basics. In his free time, he enjoys playing video games, disc golfing and continuing his education.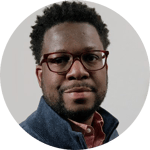 Zeke Binion is Participate's lead product designer. His curiosity about how technology can help others blossomed into a multi-faceted career in strategy, research, design and technology. During the course of his career, Zeke has worked with a wide range of organizations from technology start-ups to Fortune 500 companies.
Dan Quayle works on software development and testing for Participate.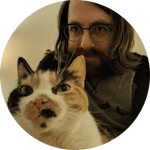 He enjoys baking pastries and taking care of four enormous cats.
What is a day in the life of a professional coder?
"I chase problems down alleyways and through rabbit holes until I find the one bit of code that broke the entire website." - Zach
"Coding is a lot like putting together several puzzles at once. You have a wide world of Legos to play with, but they don't always fit together like you'd expect. You try to work the problem to end up with a nicely constructed Lego set." - Mike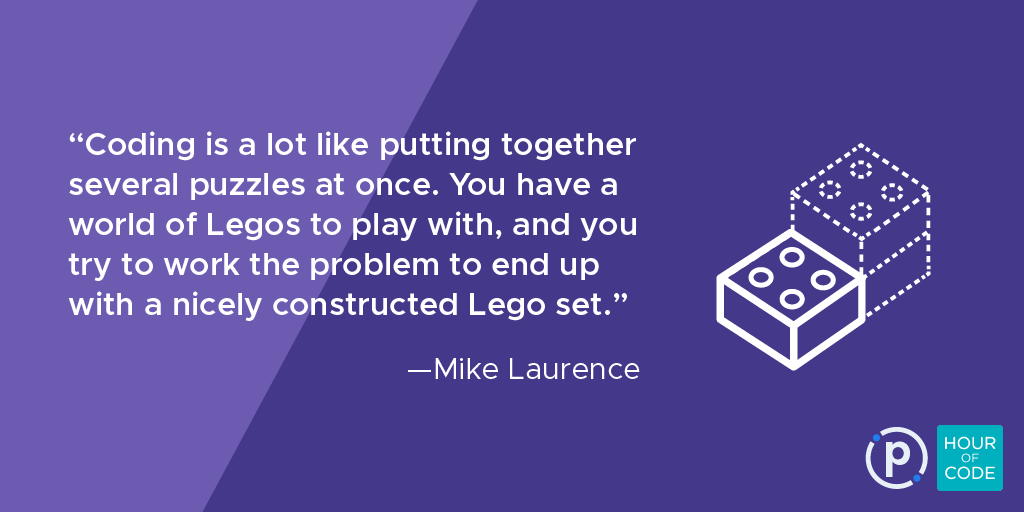 "As a designer that codes, every day is a different challenge. Some days I may use code to create a piece of the interface, other days I may use code to help me comb through data as a researcher. What I love most about coding is when I have a chance to collaborate with other developers to explore new ideas. It's a lot of fun!" - Zeke
"Every day is an exercise in communication. We don't just communicate with the computer, but the people around us about that communication. Understanding how to communicate in different environments is the constant of coding." - Dan
How did you get to where you are now?
"The path to where I am today wasn't a straight line. I come from a family that's highly polymathic; there are a lot of people in my family that 'do a little bit of this and a little bit of that.' As a result, I had the idea that I could learn anything instilled in me. I never felt like I had to wait for someone's permission to explore something new.
As a kid from the south side of Chicago, I was exposed to beautiful architecture in an area that really valued the craft. In eighth grade, I took architecture classes before normal school hours and sparked my interest in the psychology of how people interact with things. This planted the seed for my future interests in research.
Having the opportunity to explore a wide range of ideas and being provided with the freedom to explore and play with them early-on is what led me to the career that I'm in now." - Zeke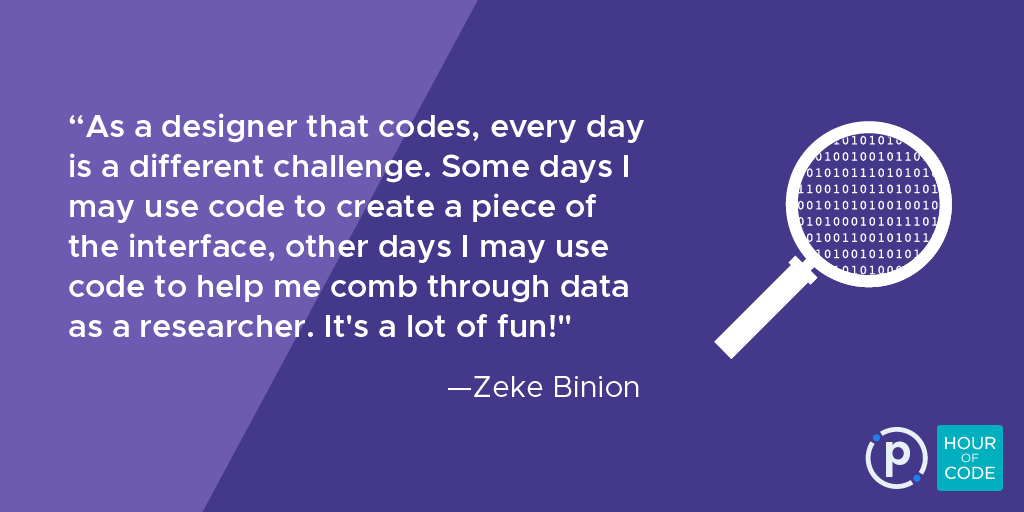 "I began coding silly little games when I was 14 years old. During my college years, I explored a lot of majors, but I could always feel that being a software engineer just felt right. I continued making games after college and worked at many different companies. One of the best parts of coding is that every industry needs you, so there's always something new and exciting to try!" - Mike
"My journey to where I am today was quite different than most my age. I took an elective during college in Computer Science, and I found out how fascinated I was by the field. As I furthered into this career, it's quite clear that there are two separate paths a developer can follow. The first path is to continue as a developer, which allows you to take on larger roles, such as deciding technical architecture. The second is a path toward management, which is the path that I am currently following." - Zach
"I worked building websites pre-2000 for fun and was going to go to college for Biomedical Engineering. After some unfortunate events, I ended up not pursuing that and instead became a bicycle messenger in Chicago.
While doing deliveries for a restaurant, I had an idea to use the internet to send fax orders for food. I read a bunch of books on how to do such a thing, leveraged my community to find help, did an enormous amount of trial and error, then shelved it because I wasn't quite knowledgeable enough on the subject to pull it off.
I realized I really enjoyed doing this kind of work and decided to make a career change. After almost 30 interviews, I found someone willing to give me a chance to code for a living. I read books and articles tirelessly, studied real world examples and worked to understand the consequences of software design decisions that I took, all in order to figure out how to improve and build people's ideas into reality." - Dan
Want to learn more? Our developers are hosting an official Hour of Code webinar Tuesday, December 4 from 10:00-11:00 a.m. ET. Dive deeper into coding with Mike, Zach, Zeke and Dan. We are inviting K-12 classrooms to submit questions in the chat window of the webinar that may get answered by the developers!
The Hour of Code, organized by the nonprofit Code.org and over 100 others, is a global movement that believes the students of today are ready to learn critical skills for 21st-century success.