Participate recognized as a Top Ten Startup to Watch at 2020 NC Tech Awards
by Participate, on 12/4/20 7:45 AM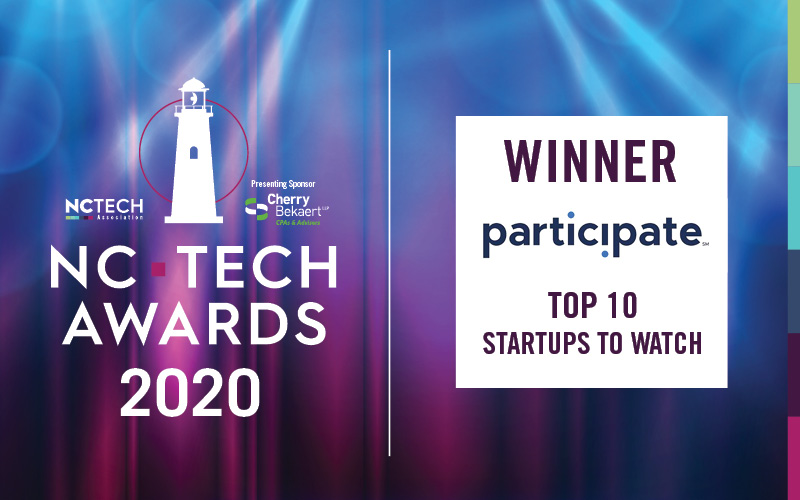 Raleigh, N.C. (Dec. 4, 2020) – Participate Inc., a leading social learning solution that designs and hosts online learning communities to connect adult learners around a shared practice, is proud to announce it has been selected as a 2020 Top 10 Startup to Watch at the NC TECH Awards. Winners were recognized at the Virtual Beacons on November 17-19, presented with title sponsor Cherry Bekaert.
The NC TECH Awards is North Carolina's only statewide technology awards program, recognizing companies and individuals who have demonstrated growth, innovation and leadership.
"We're extremely thankful to be recognized within the North Carolina tech community as a startup to watch," said Mark Otter, Participate CEO. "This year in particular, we've seen the importance of community in supporting one another. We strive to build strong online communities with this same drive so that our local communities, state, country and world are more resilient."
Participate helps organizations build powerful spaces for collaboration and knowledge creation in online Communities of Practice (CoPs) that deliver sustainable impact. Trusted by nonprofits, education organizations and institutions around the world, Participate's collaboration platform has everything you need to empower your members and drive impact now with the support and tools to help you grow.
"Since 1995, the NC Tech Awards has honored excellence and innovation throughout North Carolina, representing the best and brightest," said Brooks Raiford, president and CEO of NC TECH. "As a winner, Participate has distinguished itself as a peer-leader, and we are proud to recognize them as a 2020 NC Tech Awards winner."
###
About Participate
Participate is an online, social learning platform that connects professional learners, scales learning initiatives and strengthens organizational impact; all in one place. Trusted by nonprofits, education institutions and organizations around the world, Participate takes existing professional learning initiatives and builds online Communities of Practice that provide value for your community members and meaningful impact for your organization.
About NC TECH
The North Carolina Technology Association (NC TECH) is a not-for-profit, membership-driven trade association and the primary voice of the technology industry in North Carolina. NC TECH's mission is to foster growth and champion innovation in North Carolina's tech sector, while providing a voice for the tech community through professional networks, government affairs, talent development and sector promotion. For more information, visit our website at www.nctech.org.