Partners design engaging learning environment for Indiana educators

When developing a new educator professional development platform to support remote teaching and learning amid the COVID-19 pandemic, the Indianapolis E-Learning Fund was looking for a solution to support educators across the state but also engage administrators, parents and teachers in collaborative Communities of Practice (CoP).
With a partnership sparked and led by the State Educational Technology Directors Association (SETDA), Five Star Technology Solutions and Participate teamed up to create the Indiana eLearning Lab, a connected learning ecosystem that supports the best practice sharing and collaboration needed amid school closures.
Building a community ecosystem
The idea for the Indiana eLearning Lab started as a free platform for parents, teachers and administrators to access resources, attend live webinars and gather ideas for lesson plans. But without a central space to inspire conversations and collaboration, learning would be done in isolation and ideas would simply be disseminated, not created and celebrated.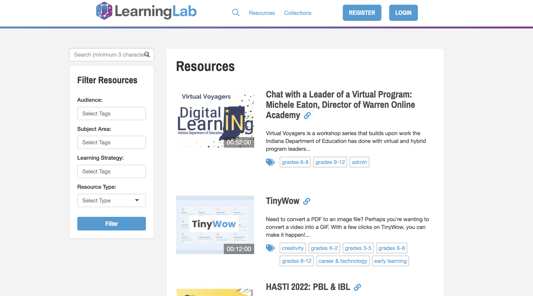 Indiana eLearning Lab home page with suggested resources
Participate and Five Star saw the importance of incorporating CoPs to create authentic social learning experiences that connect individuals, increase access to effective strategies and resources, amplify the impact of resource and lesson plans, and support building new knowledge together.
The two organizations worked together to create a learning ecosystem of communities to host discussions, send announcements and connect teachers, administrators and parents together. The communities are organized by grade-level and role — Grades K-2, 3-5, 6-8, 9-12, Administrators, Families and Special Needs — to ensure each community serves the direct needs of its members and allows teachers to connect with those facing similar problems of practice, creating a true CoP.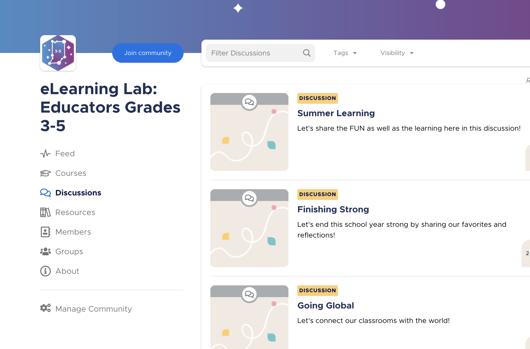 Knowledge sharing discussion within a Participate community
Partnership and collaboration are so important as we build tools and structures to support the changing educational landscape," said Christine Fox, Interim Executive Director of SETDA. "The partnership between SETDA, Five Star and Participate is a true testament to organizations bringing together their strengths to benefit the needs of educators and create intentional spaces for collaboration."
Platform integrations
Today, the Indiana eLearning Lab provides a seamless single sign-on transition between the Indiana eLearning Lab resource platform and Participate communities so that all educators can access communities without needing a separate login or experiencing the clunkiness of two platforms.
Members are taken directly to their communities with their same Indiana eLearning Lab account, avoiding any confusion for parents and educators and freeing up more time for collaboration.
Five Star provides instructional and pedagogical support of how educators might use various resources while Participate provides the community space and facilitation support to community leaders. The two platforms work together and build off one another to provide true value to members.
We are thrilled to partner with Participate to create Communities of Practice within the Indiana eLearning Lab," said April Harper, Senior Director of Strategy and Five Star. "We know collaboration is key for encouraging educators and families that we are all in this together, and the Communities make this possible!"
Interested in starting a social learning project with Participate? Click here to get a demo!
###
About Five Star Technology Solutions
Five Star Technology Solutions is an Indiana-based company comprised of teachers, administrators, and technical directors from Indiana school districts. A nationwide Google PD partner, Five Star has been working with school districts for the past eight years to design effective eLearning experiences. Five Star was chosen as a partner by the IDOE Office of eLearning from 2015-2016 to create and/or coordinate statewide eLearning workshops including the eLearning Admin Academies, online courses, and the eLearning Leadership Cadre. Five Star currently works with over 130 public school districts, charter schools, and private schools in Indiana in some capacity. To learn more about Five Star Technology Solutions, click here.
About Participate
Participate designs and hosts online learning communities to connect adult learners within organizations or school districts around a shared practice. We guide users through sustainable learning experiences that provide personalized learning pathways based on learner needs. By making learning collaborative and transparent, communities promote the spread of best practices and develop professional skills so that all learners feel supported in their professional development journeys. To learn more about designing a Community of Practice, click here.
About SETDA
The State Educational Technology Directors Association (SETDA) is a 501(c)3 not-for-profit membership association launched by state education agency leaders in 2001 to serve, support and represent their emerging interests and needs with respect to the use of technology for teaching, learning, and school operations. Nearly 20 years later, SETDA has established itself as the principal membership association representing digital learning leaders of U.S. states and territories. The SETDA mission is to build and increase the capacity of state and national leaders to improve education through technology policy and practice.