Beyond the panic: Building community in a time of coronavirus
by Dr. Julie Keane and Mike Washburn on 4/2/20 4:06 PM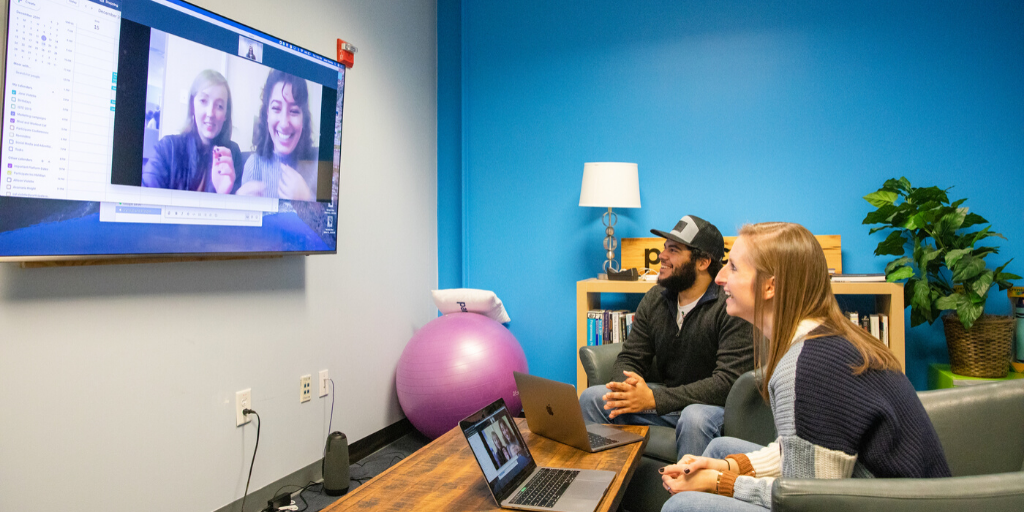 All around the world, people are trying to find ways to stay connected and feel a sense of belonging despite being six feet (or further) from one another. This change is so radical and fundamental that it has literally stopped us all in our tracks. Whatever this "new normal" we've had to create is, it's changing us, how we work, how we learn and how we come together as a community.
There's a lot we cannot control or predict, but there's also a lot we can bring to light while searching for community. This situation is forcing us to find the core, elemental pieces of connection and learning and use them to bring us together.
Affordances of technology
Our reliance on technology is now critical to our daily lives. Beyond the technological functions of talking on the phone, video conferencing and catching up on social media, we're being challenged to consider the fundamental learning principles that online learning environments make possible.
We're not just shifting everything to an online setting but rather exploring unique ways technology can be used to heighten those fundamental principles.
We've seen some extraordinary examples of organizations coming together and finding innovative ways to support students and their educators. The New York Hall of Science (NYSCI) and the Wonderment are supporting students' development of computational thinking (CT) skills through game-based learning projects. Schools and museums across the country are closed, but this isn't stopping students and researchers from NYSCI in engaging one-on-one in user research and game development. If anything, this time is eliminating physical constraints and busy schedules and allowing people to meet and make progress on these CT games and learning opportunities. Students and teachers are also engaging in informal learning on Twitch and creating classrooms in innovative ways based on student interests. What started as a solution for educators to stream video while in different physical spaces has shifted into new design and collaboration that elevates student voice and authentic learning.
Live stream on Twitch about Minecraft Education
Reflecting on what we actually need
There's no doubt we've seen an influx of articles, listicles, must-dos and ads related to the top 10 tools for this and 8 ways to impact that. Educators are being inundated with information, resources and tips on how to manage virtual learning. While some resources are useful and integral to our daily lives and learning methods, this time allows us to audit our toolkits and to reflect on what we actually need. We get so obsessed with the newest, flashiest technology that we forget we have a lot of great resources already at our disposal.
While a lot of our team at Participate worked remote prior to the coronavirus outbreak, shifting everyone to an online setting forced us to look at our technology tools, meetings and interactivity. We have increased our use of Mural for online drawing-board collaboration, Zoom breakout rooms for quarterly all-hands workshops and breaks in the day for virtual happy hours. All of these shifts required our organization to consider what we actually need (connectivity, spaces for collaboration and small-group conversations) and the tools we currently have (Zoom and Mural) before looking for alternative methods.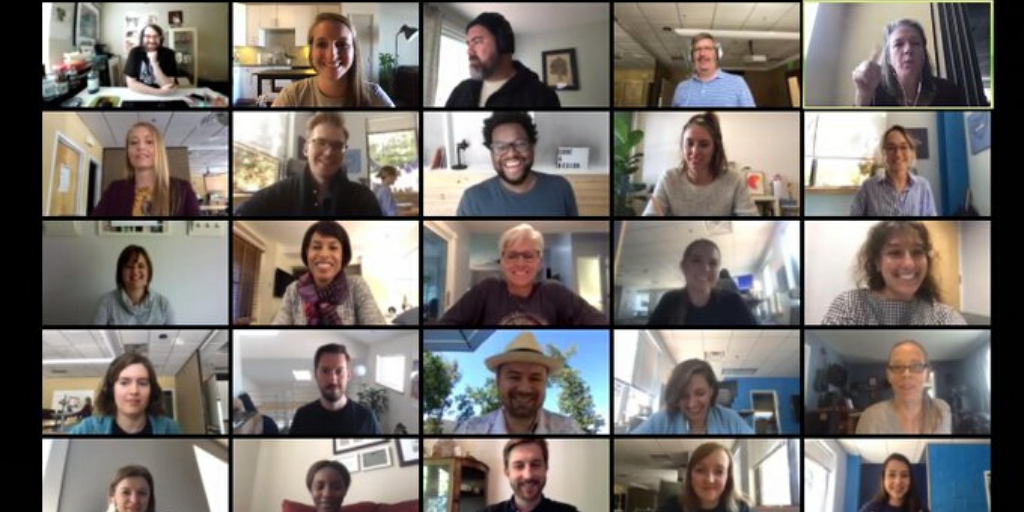 Participate team on a Zoom call for an all-hands workshop
Feedback and engagement
At our very basic level, humans crave connection. We want to provide input, talk with one another and learn together. When all of this is over, we'll need to spend some time reflecting on what worked, what could have gone better and how we can approach learning with a renewed mindset. It will be important to get the perspective from all parties involved if you really want to sustain change. For schools, this may look like getting feedback from not just a principal or superintendent but also the teachers, students and parents who were impacted most. For organizations, this could be the opportunity for genuine feedback on remote working structures.
These cycles of feedback underscore the need for social interaction, and it is through these interactions, Vgotsky argues, that humans "make meaning." Social distancing and our shift to virtual everything forces us to truly think about the affordances of each of the tools you might use. Create structures for engagement and social connection first, then consider tools second.
When we built our community learning platform and open badge system, we wanted to support cycles of feedback, not fall into the pattern of top-down systems that were already in place. This required genuine connectivity and learning through peer mentorship. Each learning experience that our partners build focus on checkpoints and interactions directly related to the competencies learners are developing. Adult learners need on-time, in-time feedback as they explore ideas that they plan to put into practice. Building in a feedback loop is essential as we heavily rely on technology and new learning methods during this time.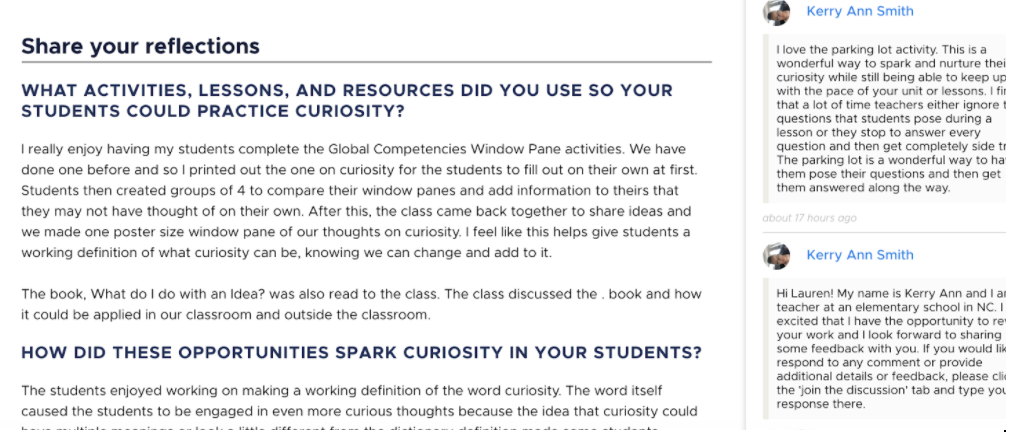 Example of formative feedback and peer mentorship within the Participate platform
A focus on social learning
It may seem counterintuitive that existing circumstances and forced social distancing result in an elevated focus on social learning, but we're being challenged to look at the fundamentals of connection and learning then grow experiences based on them.
Peter Block wrote in Community: The Structure of Belonging, that we have become stuck in traditional ways of building community. Specifically, "In the midst of the growing awareness of and innovation in thinking about the need to build community, the dominant practices for how to engage people civically and organizationally, remain unchanged." Strategies are often too top down and are not actually built for the exact needs and pain points of educators and learners. For Block, the most important glue for any community is that each member has a sense of belonging.
No matter how much we are physically and socially distanced, humans crave a sense of belonging. This feeling of belonging is essential for learning and refers to a sense of connectedness to others, an individual's experiences of being valued, of forming relationships with others and making contributions as part of a group and a community.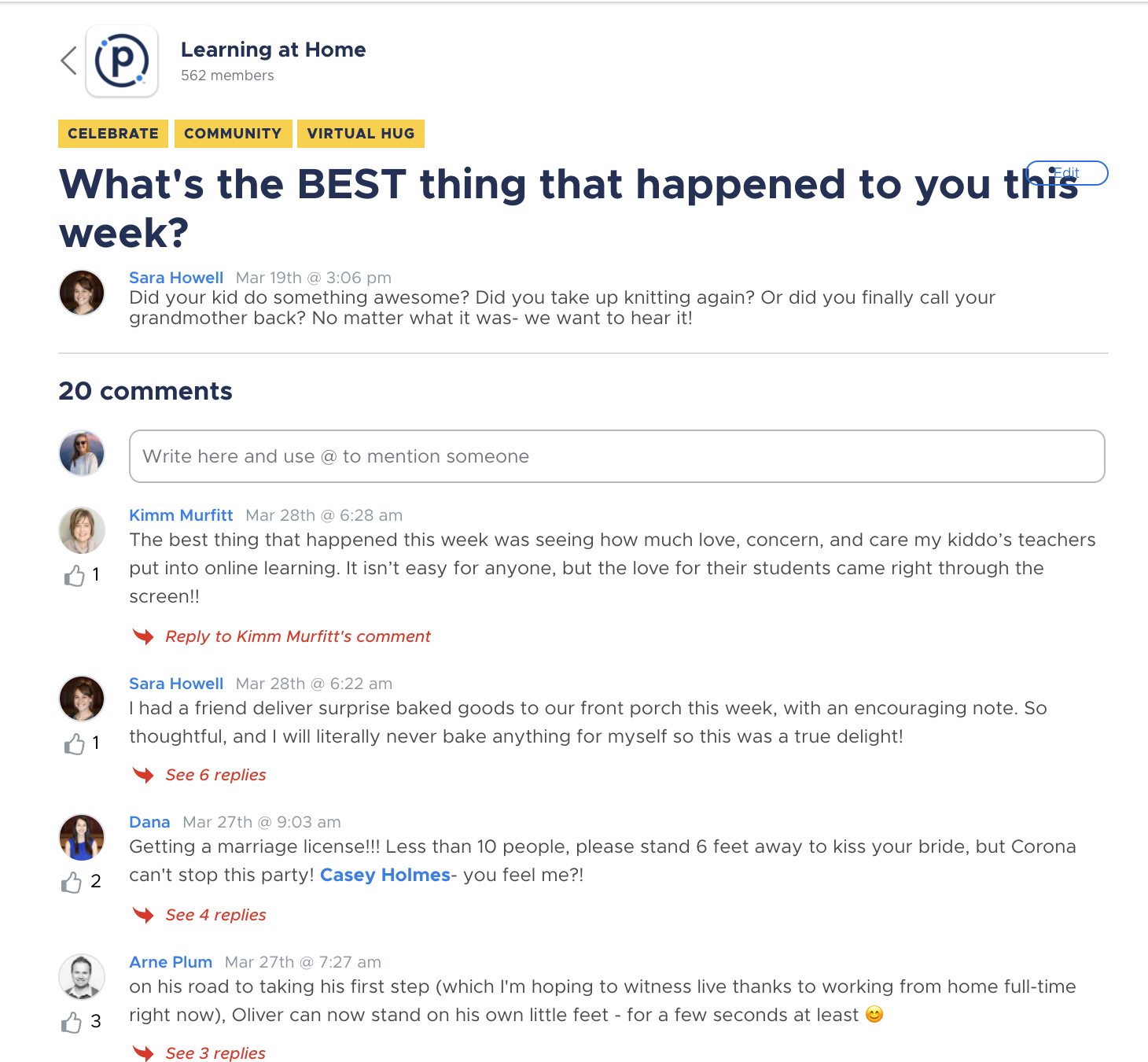 Social learning online discussion thread within the "Learning at Home" Community of Practice
This experience is forcing us to be creative in new ways, to reflect on core deliverables and on outcomes that are actually meaningful and don't just check a box. As we all decide about the future of a conference or face-to-face workshop, an annual meeting or a retreat, we now truly understand how precious time together can be. So let's not take that for granted. Of course we will resume our "regular lives" at some point, and we can't wait, but what we learn from this moment will force us to be truly intentional and build a future that supports communities from the ground up.
Want to learn more? Check out these related resources or chat with our partnerships team about virtual learning workshops or online communities for your organization.